Services
Selecting a place of final rest is a personal, and often difficult, decision.  How will you know you have made the right choice for you and your family?
Will your gravesite be preserved for future generations?
If your family is unable to care for your lot, who will?
Cedar Hill Cemetery can answer these questions, and more. For almost 150 years, Connecticut families have placed their trust in Cedar Hill's quality service.
Cedar Hill offers comprehensive on-site cemetery services to meet all of your needs:
Traditional Land Burial:  Cedar Hill's diverse landscape offers a variety of lot sizes and memorial options to suit your individual needs. Traditional burial at Cedar Hill provides the assurance that your final resting place will always be an integral and beautiful part of the overall landscape.

Mausoleum Entombment:  In addition to lots available for private mausoleum construction, Cedar Hill offers mausoleum entombment with either crypts or niches to accommodate your personal arrangements. The mausolea are complemented by a natural setting that incorporates open fields, rolling hills and a pond, and allow for peaceful visitation and reflection. The Garden Mausoleum offers an open-roof design with a feature garden located in the center of the building.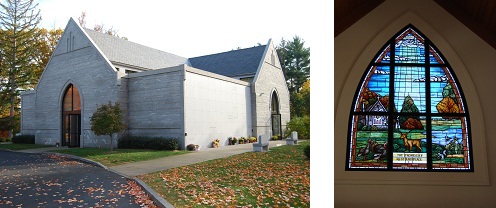 The Community Mausoleum offers interior and exterior crypts, interior niches and family rooms.  The building features cherry wood ceilings and a stained glass window depicting a nature scene.
Cremation: Today, cremation is widely selected and accepted by followers of most religious faiths as an alternative to traditional burial or entombment.  Cedar Hill's facility is located on-site and run by the cemetery.  Cedar Hill's services include cremation and internment as well as various options for burial, entombment or scattering.  Experienced staff will gladly answer your questions and provide you with literature explaining the cremation process in detail. Read more …
Grounds Maintenance:  Cedar Hill's grounds maintenance staff provides professional year-round care for the cemetery's historic landscape. Many of the plants selected for the flower beds and special lot care needs are grown in Cedar Hill's on-site greenhouse.
Lot Care Services:  Special services are also available for the care and maintenance of individual gravesites, including:
Planting and maintaining flowerbeds and shrubbery
Maintaining and cleaning monuments
Placing flowers or decorations on holidays or other days of remembrance
These services can be especially important if your family moves away from the area or is unable to give personal attention to your gravesite.

As always, Cedar Hill's standard of excellence ensures that services are of the highest quality and conducted with the utmost dignity and respect for the deceased.