Monuments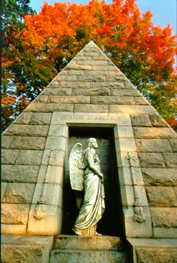 Many of Cedar Hill's beautiful and unique monuments were designed and executed by well-known architects and artists such as Carl Conrads, Randolph Rogers, Richard M. Upjohn and George Keller. Impressive memorial artworks include an 18-foot, pink granite pyramid marking the grave of insurance man Mark Howard, the cupola of the George Beach Memorial, which the cupola of the CT State Capitol was designed after, and the pink granite, stately memorial for financier J.P. Morgan, which represents Morgan's vision of the Ark of the Covenant.
This unusual monument is an 18-foot tall pink granite pyramid that marks the grave of one of Cedar Hill's founding directors, Mark Howard.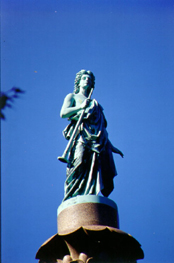 The Angel Gabriel by Randolph Rogers was exhibited across the country before coming to rest atop the impressive Colt monument.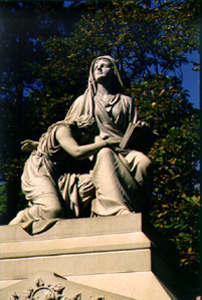 Many notable sculptures portray women and children in reverie or mourning, a frequent theme in Victorian mortuary art.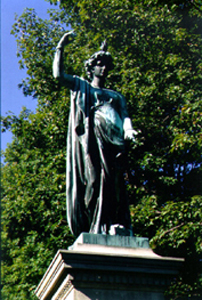 Others depict classical figures.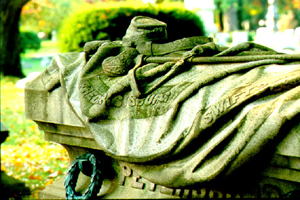 Some monuments symbolize the personal interests or profession of the deceased.  Civil War General Griffin A. Stedman's monument depicts his regimental cap, sword and belt and a flag bearing the names of the battles in which he fought.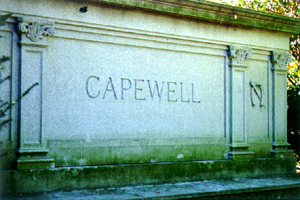 George Capewell perfected a way to fabricate horseshoe nails by machine.  His success made Hartford the 19th Century "Horseshoe Nail Capital of the World."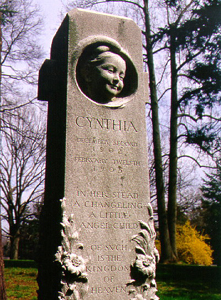 Other monuments simply convey a personal message . . .
"December Second
1902
FebvuaryTwelfth
1905
IN HER STEAD
A CHANGELING
A LITTLE
ANGEL CHILD
OF SVCH
IS THE
KINGDOM OF
HEAVEN"