Northam Chapel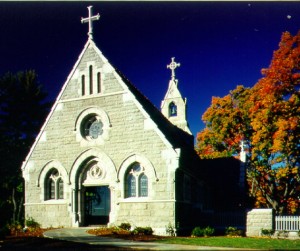 The Northam Chapel was constructed in 1882 at a cost of approximately $40,000. The funds donated by prominent Hartford businessman, Colonel Charles Harvey Northam and his wife, Susan. Colonel Northam's philanthropic works also extended to Trinity College, the Home for the Aged (now Jefferson House), Hartford Hospital and Christ Church.
Hartford architect George Keller designed the Northam Chapel as well as the Galllup Memorial Gateway and several monuments at Cedar Hill. He also was noted for his work on the chapel at Hartford's Institute for Living and the city's Soldier's and Sailors' Memorial Arch. The architecture of Northam Chapel is simple and restrained in its use of motifs and reflects Keller's vision as a Victorian and romantic. Cruciform in plan, the chapel was constructed of Westerly granite and designed using the latest technology of the day. The pews and paneled wood ceiling are cherry wood, as is a screen with upper panels of stained glass that separates the vestibule from the main section of the chapel.
Cottier & Co. of New York and London designed and executed the structure's stained-glass windows, the largest of which depicts the Resurrection. The floor is tiled with colored stone in a pattern called "Labyrinth" or "Road to Jerusalem." An unusual feature was a hydraulic lift, said to be the first of its type in the country. Following a funeral service, the lift lowered the casket to a wagon below.
The Northam Chapel was dedicated on November 12, 1883 and used for funeral services, particularly in winter or inclement weather, until the 1920's and 1930's. In the 1950s, the Chapel went into complete disuse.
In July, 1982, almost 100 years after its dedication, the Northam Chapel was listed on the National Register of Historic Places.
In 1999, the chapel was completely restored under the direction of Smith Edwards Architects, who headed Hartford's Old State House restoration.In addition to welcoming visitors to tour the historic Chapel, it now houses the Cemetery's administrative offices.