Cremation Scattering in Jacob's Way
Scattering – A Natural Way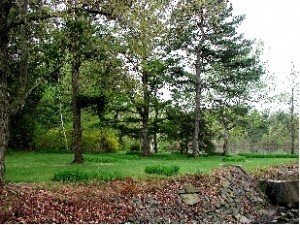 Today, more and more people choose to return to nature through scattering. Others select scattering as a less expensive alternative to burial. Often overlooked, however, is the importance of a place for families and friends to visit to remember and feel close to their loved one. For all these reasons, Cedar Hill has created Jacob's Way, a beautiful, wooded path for scattering and remembrance along the eastern shore of Lake Llyn Mawr.
Just beyond the entranceway, a footbridge welcomes visitors to Jacob's Way. The pathway winds through dogwood, birch and willow trees. Natural rock ledges and open meadows offer a variety of inviting spaces for scattering, memorial services, or quiet moments of remembering and reflection.
As a memorial to loved ones, Cedar Hill commemorates each scattering in its Book of Remembrance on display in the Northam Memorial Chapel entrance. This beautiful hand-bound leather volume commemorates those whose remains are scattered in Jacob's Way. Families receive a formal certificate recording the deceased's name and the date of scattering. This data also is recorded in our permanent cemetery records.
Peace of mind is assured. Through the mandates of Cedar Hill's Master Plan and the Cemetery's listing on the National Register of Historic Places, you can be assured that Jacob's Way and the surrounding foreground area will remain in its natural state in perpetuity.