Cedar Hill's Memorial Grounds and Mausolea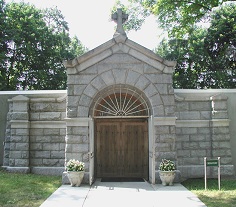 Cedar Hill's diverse landscape offers a variety of lot sizes and memorial options to suit your individual preferences. Traditional burial at Cedar Hill provides the assurance that your final resting place will always be an integral and beautiful part of the overall landscape.
In addition to lots available for private mausoleum construction, Cedar Hill has two community mausolea offering crypts. The older of Cedar Hill's community mausolea is open and has a garden located in the center. The rear of the mausoleum faces a beautiful undeveloped field allowing for peaceful visitation and reflection.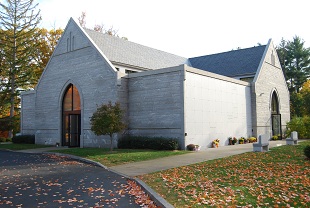 Cedar Hill's second community mausoleum was completed in 2006. Unlike our first, this mausoleum is enclosed allowing for more comfortable year-round visitations and privacy. It also offers interior and exterior crypts, interior niches and interior family rooms.
In Section 27, the Cemetery has a private, 2-crypt mausoleum and a columbarium for cremated remains. The beautifully-designed columbarium contains 20 single and 20 double niches. It overlooks the pond on Section 27 and will be surrounded by a flush marker urn garden. The private mausoleum has two crypts and the lot can provide up to six in-ground graves.
The newer sections, including Section 27 (below left), are shown below.

To make an appointment to view the options above, please call Cedar Hill's offices at 860-956-3311.