Architecture
Cedar Hill's historic architecture is noteworthy. The Northam Memorial Chapel was constructed in 1882 with funds donated by Hartford businessman Colonel Charles Harvey Northam. Prominent Hartford Architect George Keller designed the Chapel, the Gallup Memorial Gateway, and various memorials at Cedar Hill. He is also remembered for his work on the chapel at Hartford's Institute for Living and the Soldiers and Sailors Memorial Arch at Bushnell Park in Hartford.
Northam Memorial Chapel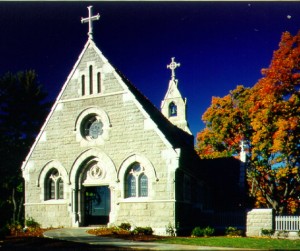 The architecture of the Northam Memorial Chapel is simple and restrained in its use of motifs and reflects Keller's vision as a Victorian and romantic. Cruciform in plan, the chapel was constructed of Westerly granite and designed using the latest technology of the day. An unusual feature of the structure is a hydraulic lift in front of the alter, which was used to lower caskets to a holding area on the Chapel's bottom floor. It is believed to be the first of its kind in the country. Read more …
Gallup Memorial Gateway

Cedar Hill's Gallup Memorial Gateway was constructed in 1888 with funds donated by Hartford resident Julia Gallup. The Gateway's architecture complements that of the chapel and a low granite wall connects the two structures. The gateway consists of a wrought iron carriage gate flanked on either side by pedestrian gates. A waiting room stands at the left of the gates and the old office building at the right. The carriage and pedestrian gates fill the main entranceway. The gates are impressive examples of iron wrought on so large a scale. Containing no cast work, their intricate design was wrought entirely by hand with hammer an anvil. Read more ...
The Crematory
Constructed in 1983, Cedar Hill's crematory stands within the cemetery foreground. The use of the facade of the cemetery's original receiving vault as the crematory entrance was acknowledged by an award of merit from the Hartford Architecture Conservancy. Read more …
Superintendent's Cottage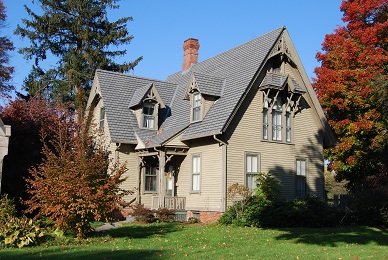 The Superintendent's Cottage stands to the right of the Gallup Memorial Gateway and has been the home of Cedar Hill's superintendents since its construction in 1875. The cottage is an excellent example of the Gothic Revival style of architecture and acts as a dramatic foil to the granite Gothic Revival gateway and chapel. A rare feature of the house is the floor-to-ceiling second floor window with a hipped and pointed hood. At the turn of the century it was hoped that someone would be moved to contribute the amount necessary to erect a building more substantial in keeping with chapel and gateway, but this never happened. Today, the cottage houses Cedar Hill's present superintendent and his family.
Monuments
Many of Cedar Hill's beautiful and unique monuments were designed and executed by well-known architects and artists such as Carl Conrads, Randolph Rogers, Richard M. Upjohn and George Keller. Read more…