About Us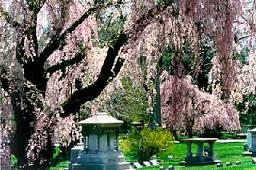 Established in 1864, Cedar Hill Cemetery is a nonsectarian, privately-managed, not-for-profit organization. For generations, Connecticut families have chosen this unique and beautiful place of remembrance as the final resting place for themselves and their loved ones.
Cedar Hill Cemetery's reputation as a premiere example of the American "rural" cemetery is enhanced by its historic landscape, finely sculpted monuments and natural resources. The Cemetery's landscape and "ornamental foreground" of ponds and meadows is unique in New England cemetery design.
Cedar Hill is the final resting place of a number of distinguished individuals. Its historic structures and many of its beautiful monuments were designed and executed by prominent artists. The grounds encompass 270 acres of landscaped woodlands and watercourses providing a natural habitat for Cedar Hill's wide variety of wildlife.
Throughout its history, Cedar Hill has maintained its standards of excellence by providing its families with comprehensive cemetery services of the highest quality. Our full range of services, on-site crematory, beautiful memorial grounds, and professionally maintained landscape all serve to make Cedar Hill one of America's finest cemeteries.